Living in Cohasset, Massachusetts means living the coastal lifestyle. With its beautiful beaches, charming harbor, and historic homes, Cohasset offers residents the perfect blend of small-town charm and coastal living. In this blog post, we'll take a look at what it's really like to live in Cohasset and why it's the perfect place to call home.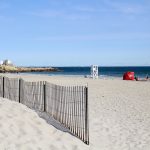 The Beaches: With its prime location on the coast, Cohasset offers residents access to some of the best beaches in Massachusetts. Whether you're looking to sunbathe, swim, or surf, there's a beach for you in Cohasset. Sandy Beach, Black Rock Beach, and Egypt Beach in neighboring Scituate, are just a few of the beaches that draw visitors and residents alike.  Although you will need a beach sticker to park at many of these beaches. 
The Harbor: Cohasset's harbor is the town's hub of activity, with boats coming and going, fishermen bringing in their catch, and residents and visitors enjoying the views. The harbor is also home to some of the town's best restaurants and shops, making it the perfect place to spend a day. 
The Community: Cohasset is a close-knit community where neighbors know each other's names and everyone looks out for one another. From community events like the Fourth of July parade to local sports teams and clubs, there's always something to do and people to meet in Cohasset. 
The History: Cohasset is a town steeped in history, with homes and buildings dating back to the 1700s. The town's Historical Society offers tours and events that give residents a glimpse into the town's past, and the Cohasset Common, with its historic town hall and war memorial, is a gathering spot for residents year-round. 
The Schools: Cohasset is home to some of the top schools in Massachusetts, with a strong emphasis on academics and extracurricular activities. From the elementary schools, Osgood to the high school, Cohasset's schools provide students with a well-rounded education that prepares them for success in college and beyond. 
The Outdoors: With its location on the coast and proximity to Hingham's Turkey Hill, Cohasset offers residents endless opportunities for outdoor activities. Whether you're hiking, biking, or kayaking, there's always something to do outside in Cohasset.
The Convenience: Despite its small-town feel, Cohasset is just a short drive from Boston and other major cities, making it the perfect place for those who want to enjoy the benefits of coastal living while still having easy access to urban amenities.
In conclusion, living in Cohasset means living the coastal lifestyle. From its beautiful beaches and charming harbor to its close-knit community and top-rated schools, Cohasset offers residents the perfect blend of small-town charm and coastal living.
---
---
Other Blogs of Interest:
https://williamtierney.net/real-estate-myths/
https://williamtierney.net/the-lifestyle-move/
https://williamtierney.net/open-house-questions/