It's time to pull out the winter coats and get cozy around the fire. But what if you could bring your fireplace outdoors? This is what's on homeowners' minds across the country according to a recent survey from the real estate experts at HomeLight. 
Outdoor fireplaces are part of the backyard upgrade trend that began during the Covid-19 pandemic and has no signs of slowing down. As people across the country spent more time outside, backyards became extensions of living rooms with cozy lounge areas and yes, fireplaces. In the Northeast region, 65 percent of agents in the HomeLight survey said that interest in outdoor fireplaces has increased in their markets since 2020. While the demand for indoor fireplaces is also up — real estate agents in the Northeast shared that indoor fireplaces have seen a value increase of 28 percent since March 2020 — outdoor fireplaces have seen an increase of 72 percent. 
[optima_express_gallery_slider rows="1″ nav="top" style="grid" columns="3″ effect="slide" auto="true" status="active" maxResults="25″]
Why is there such a demand for outdoor fireplaces?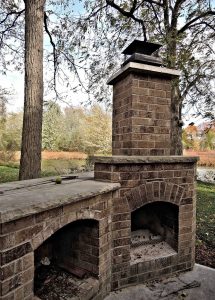 Aside from adding a pool or spa in your yard, nothing says luxury more than creating an outdoor lounge area with a fireplace. These outdoor living rooms have what's called hardscaping, where there are clearly defined areas in your yard with brickwork or other patio materials. Some properties could have a living room and even an outdoor kitchen. Firepits and fireplaces have become the focal point for outdoor gatherings that can happen all year long. Even during a Massachusetts winter, an outdoor fireplace can be a gathering place if you get bundled up on a clear day or night. 
Which type of outdoor fireplace is the most desirable?
Especially if you are thinking about adding an outdoor fireplace, or buying a home with an existing one, you'll want to consider your options. While there is no one answer about which type of fireplace is better, there are some factors to weigh. Gas is generally easier to maintain, and won't be subject to restrictions about air quality that might exist in some communities for wood-burning fireplaces. Gas-burning fireplaces were favored slightly in the HomeLight survey with 48 percent of agents saying they add more value than wood-burning (44 percent).  
Will adding an outdoor fireplace help me sell my house for more? 
Like any home upgrade, your ROI on an outdoor fireplace will depend on many factors, such as how much money you put into labor and materials and the demand for homes with an outdoor fireplace in your market. Estimates by real estate agents show that custom work for permanent outdoor fireplaces could exceed $20,000. Meanwhile, agents in our region shared that the value added by an outdoor fireplace before Covid-19 was $2,736, while today it is $4,696. Whether or not the investment is worth it to you also depends on how much value you put on having a cozy outdoor gathering place. 
With an outdoor fireplace, you can enjoy the comfort of your backyard even in winter. While the value this feature can add to your home can vary, it's clear that there is a higher demand for them and that could lead to a positive ROI in the future.