Every industry suffers from it — overused, industry-specific jargon that everybody's tired of hearing. You know, words and phrases that sounded cool way back when… but they've lost their luster.
Here are the 25 most overused terms used in the real estate industry, as nominated by fellow agents.
1. "Will not last"
Credit: Nancy Judovits
Not to burst your bubble, but those 317 days on market are telling a different story, chachie.
2. "Seller says sell"
Credit: Kelly Provost
No way! I thought you had snuck this listing on MLS without their knowledge!
3. "Huge deck for entertaining"
Credit: Michelle Weadbrock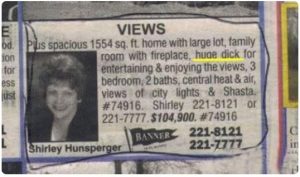 This is just one letter away from a whole heap of embarrassment. If real estate agents insist on using this one, it should be done with extreme caution.
4. "Bring your pickiest buyers"
Credit/photo: Aggie Sean
It's not that this is the most horrible statement ever… it's that it's usually accompanied by a photo like this:
5. "Needs TLC"
Credit: Rhonda McMillion White
Thanks to Jeana Brinkerhoff & Mark Hawley for the acronyms
C'mon, you know it's a hot mess. There's a big difference between "Tender Loving Care", and "Tile, Lumber & Concrete". So which is it? Most people have been conditioned to equate TLC with Tons of Loose Cash.
6. "Pottery Barn decor!"
Credit: Dana Duncan
Pottery Barn is a store, not a style. Not to mention, the sellers will be taking that with them when they move out.
7. ANYTHING IN ALL CAPS
Credit: Ruth Sheahan
Just keep it lower case, will ya? Capitalize only the words that need it. Otherwise, you might just earn yourself a new nickname. Perhaps something like…
8. "Cozy"
Credit: Jessica Thomas
C'mon, let's just call it what it is: an itty bitty nook. You know good 'n well a twin size bed won't fit in that room.
9. "Priced to sell"
Credit: Mary Milligan Hillerman
Well geez, I'd certainly hope so. If it weren't, would there be any point in trying to sell it?
10. "Mrs. Clean lives here"
Credit: Tina Wolf Cavazzoni
Would she consider staying if I bought the house?
11. "Hot water heater"
Credit: Corina Jimenez
Sorry, but technically it's a "water heater". Saying "hot water heater" is redundant. If the water was hot, you wouldn't need a heater.
12. Anything with bad spelling/grammar
Credit: Sherry Schroeder
Prime example: "Lot's of closet space in there. Pet's will be out. Your gonna love it. Owner's taking there drapes. Large dining room. Prestigious. One of the best area's out there." Oh, my eyes!
13. "Updated"
Credit: Eric Grossheim
This is cool to use if the home has been updated in, say, the last few years. But when the home was "updated" in the 80's… um, HELLO, it's outdated again!
14. "Better than new construction!"
Credit: Lissa Deminie
Not only is this a textbook example of hyperbole, but you also run the risk of conjuring up images of driving by a used car lot: "Come on down! These cars are better than new!" Just, no.
15. "Walking closets"
Credit: Joseph Guerrero
Ahh, so THAT'S why we keep shoes in there.
16. "Don't let this one pass you by!"
Credit: Kimmy Burroughs Parrish
Because it's on wheels?
17. "Show and sell"
Credit: Wendy Clemons Friend
Really? I'm gonna show it for kicks & not try to sell my buyer a house?
18. "A decorator's touch"
Credit: Patty Fonseca Herrera
C'mon. You should just come right out and say it. It has funky wall colors, doesn't it?
19. "Open house this weekend"
Credit: James Patton
Which weekend?
20. "Sellers prefer XYZ Title"
Credit: April Leeper
Yeah, no they don't. You do. Most sellers have no idea which title company to pick.
21. "Room for a pool!"
Credit: Robert Guth
There's nothing quite like advertising something that it doesn't (but could!) have. Hell, room for a goat farm, or ferris wheel too I suppose. Doesn't have it now, but hey… it totally COULD!
22. "Rancher"
Credit: Jennifer Sanders Waters
Ranchers have cows. It's a "ranch" style home.
23. "Too much to list"
Credit: Jessica Easter
No it's not. C'mon, give it to me. I'd rather spend a few more seconds reading your listing description, than to visit the home and have it underwhelm my client.
24. "Boasts"
Just say no to this word. It's one of the most overused words in modern real estate advertising. It's simply lost its luster.
25. "Honey, stop the car"
Credit: Lisa-Jane Robinson
I'm saving the best for last. And by best, I mean worst.
Using the words and phrases above, I imagine the world's most irritating listing description would look something like this:
HONEY, STOP THE CAR! THIS ONE'S PRICED TO SELL! THIS COZY & UPDATED RANCHER BOASTS POTTERY BARN DECOR, BIG DECK IN REAR, NEW HOT WATER HEATER, AND WALKING CLOSETS. NEEDS A BIT OF TLC, BUT HEY — MRS. CLEAN LIVES HERE! Won't LAST! SELLER SAYS SELL, SO SHOW AND SELL! BRING YOUR PICKIEST BUYER!