Real Estate Divorce Specialists
Do you need a real estate divorce specialist?
Divorce is an exercise in learning what you don't know about what you don't know. Most of you know that you don't understand the legal process, so you hire a Divorce attorney. You may understand that you don't have your finances in order, so you hire a financial advisor. Yet, I am always surprised by how many people think they know how to handle their real estate during a divorce.  Typically, people will come to me saying things like, "I'm going to buy out my spouse and stay in the house" or "I know that I can't afford to move." I want to let you know that there are pitfalls to avoid, and options you didn't know were possible when dealing with your real estate.
It's possible you might think that you don't have a real estate issue right now. Please let me stress; unless you intend to live with your existing spouse for the rest of your life, you have a real estate issue. If you are renting, you have a real estate issue. At the very least, anyone who owns real estate needs to value the real estate in order to get divorced, so you have a real estate issue. I meet with people who are early in the divorce process who will say to me, "I don't want to trouble you because I don't have a real estate issue right now." However, it's never too early to talk even about possibilities and solutions that you may not know even exist. 
The professionals in any Vesta Hub are all a part of your core divorce team. The question is not, should I form a relationship or hire a realtor, the question is, who is that realtor and how do I
choose them. In other words, the question is not whether you should form a relationship or hire a realtor, the question should be: who is that realtor and how do I choose them?  When choosing your realtor, remember that this is a person with whom you're going to forge a relationship that could last for a very long time. We're also likely the only member of your divorce team that will be in your home. Your home is your largest and most emotionally charged asset. Your realtor should be someone who gives you a sense of complete competence,
peace, and relief. It is our job to remove your biggest pain points regarding the home.
Please give yourself permission to interview as many realtors as you need to find a person with whom you want to enter into this relationship and who you trust will get you through this time
with the highest degree of success.
Be prepared to discuss the following with your Realtor:
1. How do you help me prepare my home for sale?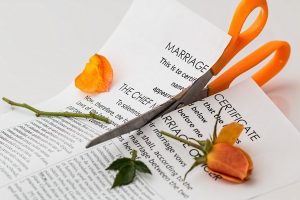 The biggest and most important part of a realtor's job when it comes to listing properties is how we help you prepare the home: from staging to photography to showcasing your home's unique features to potential buyers.  There is a lot of work that goes into preparing the home. I am fortunate enough to be with Michelle Larnard Real Estate. We will position your home to show in its best light. We have access to vendors that can be helped with for anything from professional organizers and declutters to stagers and movers, to a new door or new furnace. These vendors have been a lifesaver for our divorcing clients. Typically there are no liquidating assets or retirement funds for the improvement costs. And when the average return on the money spent is 31-35%, couples getting divorced cannot afford to not spend the money optimizing their home to achieve top dollar.
For each of my listings I prepare two pricing analyses: the first is to sell the property "as is" the second is the price after doing our recommended improvements. Regardless of completing the proposed improvements, any agent should give you the same analyses so that you can make an informed decision about whether the improvements are worth the cost.
I then prepare a Home Prep Plan ("HPP"). This is an interactive spreadsheet that lists every 'to-do' in every room. It's color-coordinated by room and each task has a deadline. We back the
due dates out from the anticipated photo dates. As you know, Timing is everything in real estate. Once we commit to a release date, we do everything possible to ensure that the date is met. If you
miss a hot market by two weeks you can lose 5-10% off your price. I believe that the well-being of my clients is of paramount concern to me, the house itself is my client. Any good Realtor
in this space should be constantly aware of that and prepared to have a conversation with either spouse that is trying to change the dates.
When I sign on to represent that house, there is nothing that is going to stand in the way of that home being devalued. So whoever you are interviewing, that realtor should know should be willing to discuss as well as have the answers to the following:
The things that we need to do.
This is what we believe it's going to cost
This is who's going to do this work, and
This is when it needs to be done by
Those things must be organized before you even consider listing your home and your realtor should be able to answer those questions and help you develop that plan.
2. How do you communicate with my spouse and me?
It is so important when you meet a realtor that you believe that the realtor is representing both of you fairly and there is a degree of transparency that you can trust.
I am only ever introduced to one client at a time, and it is my responsibility to earn the trust of the other spouse. 

You should not feel that your real estate agent is having sidebars with either you or your spouse. I have a very firm rule on communicating with clients when they sell during divorce.

Any communication involving the house goes to both spouses. I will have side conversations on the phone, and that rarely happens, but if it involves the home (in particular, if it involves deviating from the plan that we have all agreed to), that conversation goes to both spouses. And sometimes those are hard conversations, but it always ends better when everyone is on the same page about what is going on.

The only time I will have independent conversations with clients is during active negotiations. I've witnessed one spouse disagree with an offer because the other spouse said yes, even though the first spouse understood the offer to be good. For this reason, I'll occasionally have private conversations with the spouses one at a time and more times than not, they're on the same page.
3. I'm buying out my spouse. What should I look out for?
Please treat that home as if you are buying a brand-new home about which you know nothing. 
Hire a professional home inspector to examine the home and provide you with a list of any deferred maintenance. Possibly much has changed in your home from the last time you had it inspected, and once you own that home, you're going to be responsible for all that deferred maintenance. Once your settlement agreement is signed it could be very difficult, if not impossible, to get any help covering large home expenses that pop up. 

Work any deferred maintenance into your settlement agreement. 

Make sure you speak with a real estate attorney and mortgage broker to get his or her name off the Deed and mortgage if a buyout is what you decide to do.
4. Is it possible for me to sell my home privately?
Yes. This varies by state. CA, for example, has much stricter laws about this than MA. Since I am in MA I will provide you with the answer I tell my clients. A private sale in this sense is a sale that is not advertised publicly through MLS. It is, therefore, not picked up by any of the third-party aggregators like Zillow, Trulia, Redfin, etc. Several of my clients must sell but are not emotionally prepared to advertise that publicly. They do not want their neighbors knowing, they do not want a 'for sale" sign out in front of their yard, they do not want it on the internet. Regardless, when we take any listing we always float an off-market "test price."
This is highly beneficial for two reasons:
1) we can test a price higher than what we would list on MLS because we are not accumulating days on market and therefore not at risk of having the listing become "stale."
2) We can test the property with brokers and buyers and perform any additional work or tweaks based on their feedback if and when we list on MLS. We are part of two large off-market databases through which we conduct our private transactions. My local MLS has a Coming Soon feature, which goes to all the local MLS subscribers.  I also have a self-curated list of who is who on the South Shore in real estate. Please ask the Realtors you interview about their access to their own off-market networks and how they conduct off-market sales. I will talk about this in a further blog post.
It's critical to fully prepare the home before the off-market period as if it were going directly into MLS. The protocol is the same: prepare the home, prepare all of the marketing materials,
develop a targeted approach to brokers and broker outreach.  I am lucky to have a network where we can reach out to all of the top brokers in the areas we need to reach. We reach out to
them directly. We let them know about the home, and then we vet any of their clients who want to come to see the home. We have had a lot of success doing private sales, but private sales
will only work if you establish the terms you want ahead of the sale. You really need to do your due diligence with your agent and say, "Alright, if you were to list this home on MLS, what would
you want to list it for, what would you expect to sell it for, and what are the terms we can get in terms of closing and financing?" Whenever we list a home privately, we work out our 'pie in the
sky' terms with our client and say 'in an ideal world, this is the price we would want, maybe we would factor in a lease-back, maybe we would factor in the closing date that we want and then
that way we know when we put the home on the market privately and we start getting buyers; if we receive an offer that hits all of those 'pie in the sky" points, we can feel good about
accepting that offer.
5. How do you value my home?
Appraisals and Comparative Market Analyses ("CMA"s) are the two most common forms of home valuation. The other two that you likely know are assessment and algorithms. The
assessed value is the value that your town or municipality assigns to your real estate for real estate tax purposes. The algorithm is how I refer to Zestimates and other valuations that real estate
websites attach to properties. For purposes of valuing your home for divorce and attaining a current market value, I recommend that you use a very recent appraisal (done within the last 7-14 days) and CMAs.
There are two main differences between the two valuations:
1) an appraisal is done by an appraiser and typically costs between $300 and $700 whereas a CMA is done by a real estate agent and is typically free.
2) An appraiser can only look in the rear-view mirror to determine value. This means that appraisers can only look at sold comparable (or "comps") in your immediate neighborhood. They do not consider what is currently on the market and, most importantly, what is currently under agreement or under contract, in your neighborhood. What is for sale and under agreement are arguably (or inarguably) the most important factors when you consider current market value. A Realtor, on the other hand, knows or should know what is under agreement and what is selling off-market.
These data points are extremely relevant for understanding what your home would sell for today. Judges will occasionally require an appraisal, and that is okay. Just make sure that you don't use it as your list price if it is more than two weeks old.
6. We have a Stipulation that requires us to sell our home. What does this mean? Can I choose the realtor?
Stipulations are drafted by attorneys. Your Stipulation will usually name a realtor therein. The most important thing to remember about the Stipulation is that your realtor is and should be
your first stop for all questions real estate-related. If you are going to your attorney to sort out things such as sale price and showing schedules, your realtor is not a strong enough communicator with you and your spouse. A good Realtor, and certainly a Vesta Realtor, should be able to facilitate those questions for you and your existing spouse and save you both the time and money required to have the lawyers sort those things out. Your attorney is not equipped to answer market questions and will bill you for the time they spend on the phone with your realtor to find a solution to the problem. Please make sure that you and your spouse believe your Realtor can guide you through these questions and help facilitate an efficient and
successful sale.
It has been my personal experience that accomplishing this, a successful sale, actually goes a long way to mitigate against acrimony between couples. It is an enormous feat to sell your home at any time, even more during a divorce. To accomplish this successfully is something to acknowledge. In the best-case scenario, it can save you an enormous amount of time and money, and preserve or even create goodwill between spouses.
In conclusion:
I know that it is scary, to think about leaving this home that has been your shelter in the storm. Even if your circumstances are currently not pleasant, the home represents safety, and it
can be scary to think of seeing that go. If you are in a situation where you need to sell and buy at the same time, I really urge you to take a moment and work with a real estate agent to go see places that you might be able to move into. It can help enormously to visualize some option about where you might go. This is an opportunity to create something that is wholly yours. If
you can embrace that, even a little, the difference on the sale side is palpable. I had the privilege of working with a client I met through Vesta who said to me a-er the closing, "I realized during the walk-through that my home is just walled and my real home is wherever my children are." You deserve to walk through this process feeling assured that you are in good hands. There are so many excellent Realtors to create that feeling, and it is our every intention to help make the process as smooth and successful for you as possible. Should you work with a real estate divorce specialist? Perhaps all the prior experience can help you.
[categorize_posts category="Blog" posts_across="3″]