Anybody who knows me, knows I like to cook. You have probably heard me say that before. Anyway on my foodie Facebook page, "What to cook tonight?" I am following a trendy theme of healthy cooking for the month of January. On that page, I share food ideas, good wine, and places to eat locally. I'd love to have you join my group.
It's January….are you trying to eat more healthfully?
Here's a dinner idea:
A roasted vegetable casserole served with creamy Narragansett cheese and warm, crusty bread
So in the theme of eating better, my friends at Holly Hill Farm have posted a great new recipe that is so in keeping with the theme.
Roasted Root Vegetables with Tomato & Kale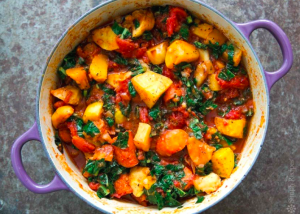 3 to 4 pounds of root vegetables like parsnips, rutabagas, carrots, potatoes, beets, radishes, turnips, and celery root, peeled and cut into chunks
1 head of garlic, cloves separated and peeled
6 tablespoons extra virgin olive oil, divided half and half
1 teaspoon slt
1/2 cup chopped onion
1 heaping tablespoon tomato paste
1 28-ounce can of whole peeled tomatoes
2 cups (packed) of chopped leafy greens such as kale or chard
1 teaspoon dried oregano
Black pepper to taste
Tabasco sauce (optional, to taste)
Preheat oven to 450 degrees. In a roasting pan, mix the root veggies with half of the olive oil and sprinkle with salt. Roast for 45 minutes, turning the vegetables over in the pan halfway through.
While the vegetables are roasting, heat the remaining olive oil over medium-high heat. Saute onions until just starting to brown and stir in tomato paste. Cut or tear the canned tomatoes into large pieces and add to the pot. Let cook gently on low (covered) while vegetables are roasting.
When root veggies are browned and tender, remove from the oven. Add the chopped leafy greens to the pot of tomatoes. Simmer until wilted, about 5 minutes and stir in root veggies. Season with salt and pepper to taste (and Tabasco if desired).