When you're buying a new home, you have a choice. You can buy new construction, or you can buy something somebody else has previously lived in. If you are purchasing a home that is not new construction, you are purchasing something that has been previously occupied, hence it's not a new house. Since it is not a new house, it will have some flaws, usually due to wear and tear.
If you are buying new construction:
If you're buying new construction, yes, everything should be turnkey and brand new. That's why it's new. And, essentially, it's what you're paying for as well.  In today's market, new construction tends to sell at a premium.  This is true in part because of the fact that everything is out of the box new. We know this because at Michelle Larnard Real Estate we represent some of the South Shore's most respected builders.
If you are not buying new construction:
When you're not buying a new house, it's not new. The boiler's not new. The hot water heater's not new. And so forth. Somebody has lived there before you. There may be dings in the walls. There will be scratches on the floors. There are windows will all be functional but may not operate perfectly. And as we are all well aware, this is a competitive market, and you could be paying an awful lot of money for the house, but it's still not a new house.
The home inspection scenario: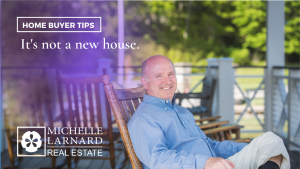 As a real estate professional with over a decade of experience, I see this come up often.  It comes up over and over in a home inspection.  The scenario occurs in a manner similar to this, "We get to the last couple of dollars in the negotiation on price.  The buyer then comes up in price, and they give the last $10,000 that the seller wants in order to make a deal.  We then shake hands and we have a deal (known in real estate as an accepted offer). Next, we schedule a home inspection, and then all of a sudden, miraculously, there's $10,000 worth of things wrong with the house that the buyer wants to come off the price."
What is silly is that it is all stuff that we knew and we saw when we walked through the house.  It is not that something is wrong with the house, but because it's not a new house. We went down and we looked at the hot water tank. I can't judge the age of the tank, that's not my specialty. That's why we bring in a home inspector. But we can look at and say, "Well, geez, that's probably not new." And you can look at a boiler, and if it's shiny and clean, it's new. If it's got some rust stains from use, it's not. Because when you're buying a house that someone else occupied previously, remember, it's not a new house.
And I always like to bring this up so that you can recognize that when you receive your home inspection report, there's going to be a million things on it that are going to give you a reason to raise your eyebrow. But you have to remember, you're not buying a new house and there are all things that you need to worry about. And experience has taught me that half the stuff you probably won't worry about in the lifetime you own the house.
So remember, when you are purchasing a home, it may not be a new house. It will have some signs of wear, and you will have to figure that into your offer price. But you cannot double count it and want a price adjustment after the home inspection.
---
Other related blogs: